Powerful Technology Platforms Powered by The Startup Studio
From the Classroom to the Metaverse
The Startup Studio envisions a very disruptive future for education and is constantly developing proprietary technology solutions capable of delivering a transformative model of education. Today, we have developed technology solutions that ensure all of our programs are delivered at scale without compromise.
Technologies that Empower Students, Instructors, and Parents to…
Move in and out of virtual learning and training environments with ease.
Connect directly to the markets through powerful and relevant content.
Build powerful portfolios and achieve market-ready certification and credentialing.
Connect and share with an entire community of other Learn to Start participants.
Work in autonomous learning systems as a critical component of developing market readiness.
LTS participants are connected to a global community of resources as they work to build the best version of themselves inside a transformative learning platform. It is here that students access a trove of market resources linked directly to mentorship, guidance, and assessment. Using our patent pending IAMR technology, students are guided to their Market-Ready Certification while building their digital portfolios.
Instructor Management System
Our Instructor Management System is a scalable training and assessment platform that brings our instructors a transformative model of professional development using the Learn to Start EDU training system. In addition, our IMS technology provides powerful support to all of our instructors throughout the world and connects them directly with every student they serve, allowing for constant mentorship, guidance, and assessment. Using our patent pending IAMR technology, our highly trained instructors move all students to Market-Ready Certification while building their own market-ready portfolios in parallel.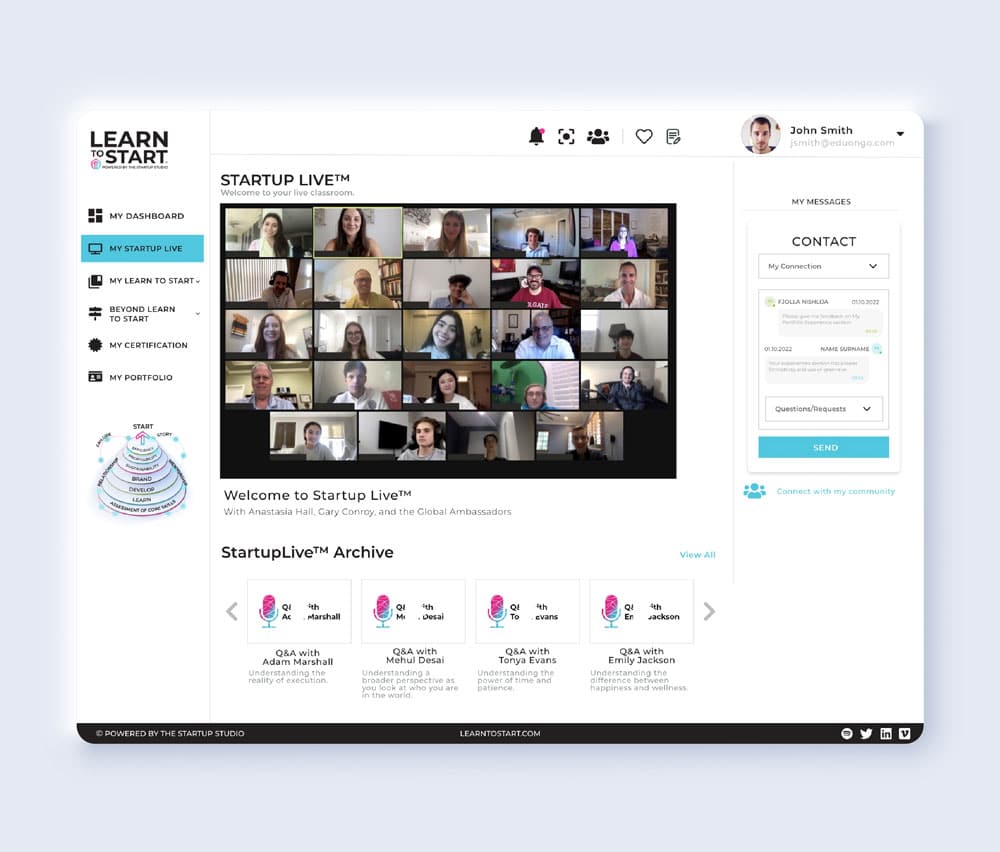 Embedded across all of our platforms, our Startup Live webinar technology allows us to drive in-platform resources never seen before in education. From live webinars with our Global Ambassadors to Spotlight®, our global pitch platform, our Startup Live technology connects all our students and instructors to a trove of incredible professionals, market experts who are ready to mentor, guide, and advise our entire Learn to Start community at scale.