POWERED BY THE STARTUP STUDIO
The Startup Studio's mission is to bring real and sustainable change to how people learn. We must disrupt education so that it creates new outcomes that enable people to change the world into a planet where real problems are solved. To do that, we must build people capable of Empowerment, Performance, and Wellness, who understand what it means to create solutions that experience the outcomes of Sustainability, Profitability, and Efficiency – the three test metrics of Learn to Start.
It also means that we must provide a platform where all of our Learn to Start participants, from all of our programs throughout the globe, have the opportunity to illustrate their power through the startups they create and the stories they tell – a place where the light shines brightly on them and their solution.
At The Startup Studio we call this place Spotlight®.
A Global Platform that Prepares Students
Spotlight is a virtual technology platform powered by The Startup Studio that celebrates the entrepreneurial efforts of Learn to Start participants throughout the entire global community we serve. It introduces the individuals and teams to our community of leaders and provides key resources to help launch their ideas and ventures. Of far greater importance, it gives our participants the unique opportunity to learn the art of effective communication and what it means to pitch themselves and their ideas in the world. It is where our LTS participants can fail fast, learn agile principles, and receive powerful feedback from both experts and peers from all over the world.
Spotlight accepts all types of venture proposals. This platform brings together students and leaders to create one of the most exciting education platforms in the world.
* You must be subscribed to the Learn to Start platform for a minimum of 1 year prior to applying. Applicants must be 18 years or older to be considered to enter the Seed Group accelerator.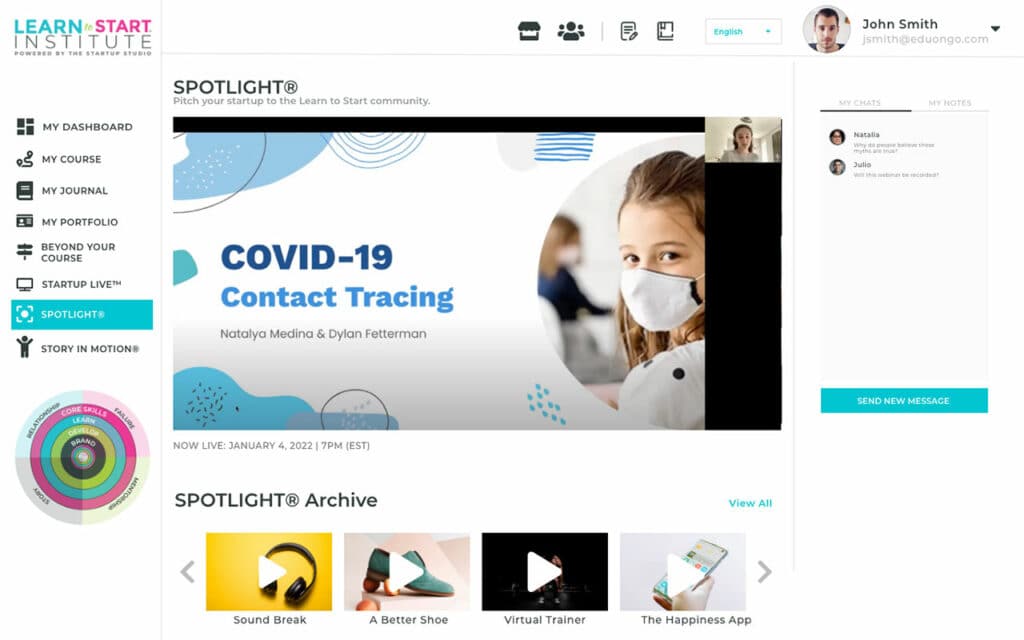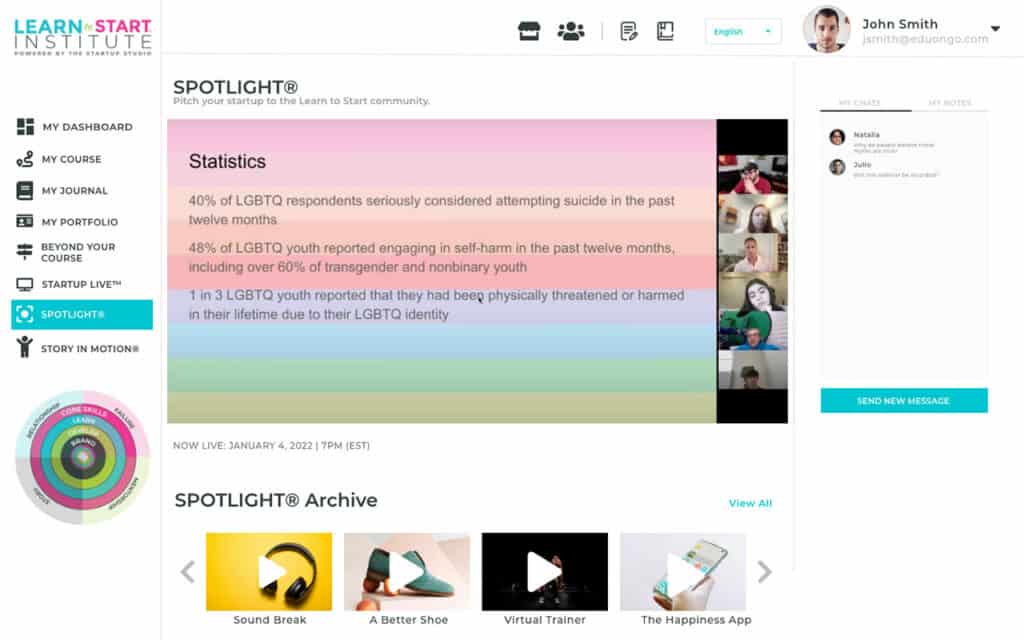 Spotlight rewards participants for proposing innovations that address important problems and for developing scalable business models that create value for customers as well as wealth for the community they serve. 
The assessment criteria we employ reflects these values.
Proposed Product/Service
& Market Opportunity
Is the value proposition sound?

Is the product/service original, innovative, and thoughtful?

Is the value proposition articulated clearly?

Do they clearly identify their target market(s)?

Are their target markets large enough to support the growth of this venture?

Do they have a competitive advantage over existing solutions?

Do they have intellectual property?
Financial/Revenue Model
& Financial Projections
Is the revenue model logical and comprehensive?

Are the financial projections comprehensive and realistic?

Do the financial projections reflect an understanding of the economics and potential growth opportunities and/or downside risks for the business?
Impact
Does this venture have the ability to make a large impact on society?

Will this venture help create jobs and promote regional economic development?
Team & Execution Plan
Is the business operationally feasible?

Do they outline measurable and achievable milestones?

Do the founding team members have the expertise to launch and/or grow the business? Do they have plans to address gaps in their expertise/experience?

Do they properly address risks and provide contingency plans?
All participants planning to pitch should work directly with their instructors, mentors and network within their community so as to help them review their business models, financial models, presentation strategies, and pitch decks.
Once you are ready, send your submission inside your Learn to Start Institute e-learning platform. Once your submission qualifies, you will get scheduled for a virtual pitch in one of our upcoming Spotlight events.
At The Startup Studio we do not believe that funding should be the priority of young startups. Instead, we believe building a needed value proposition that is housed inside a well crafted business model is where a founder's focus should be. Far too many startups focus too heavily on funding and as a result never get to market successfully.
With this underlying principle in mind, Spotlight has been created to give all of our Learn to Start participants the opportunity to experience a powerful platform where feedback from our experts and from peers can drive valuable learning outcomes. However, for individuals and teams who display well-crafted models with real potential, Spotlight is an opportunity to access our powerful virtual incubator.
This incubator is unlike the traditional accelerator models currently offered in the market today. Instead, we focus on all aspects of the Learn to Start model based on the real meaning of entrepreneurship so as to ensure these startups can reach the critical next level in their journey. This is where selected participants or teams can gain monthly access to our entire community of powerful resources. That includes direct access to our entire LTS Alliance including our Global Ambassadors and the Seed Group, all of which will provide critical expertise under a completely new idea in what it means to accelerate human potential.
To pitch in a Spotlight event, you must be at least 18 years old and a registered student or professional inside of the Learn to Start Institute e-learning platform with at least 2 years of experience within a Learn to Start program.
Teams and individuals that qualify to pitch are encouraged to participate in advising sessions and workshops leading up to their scheduled Spotlight event by working directly with mentors in their network of mentors and advisors.
Contestants will have 12 minutes to present their pitch deck, with additional minutes allocated to Q&A from the expert panel.
Ventures submitted for Spotlight are not kept confidential, so teams should not include detailed descriptions of intellectual property in their submission. Participants retain ownership over their ventures, concepts, and ideas.
All contestants are expected to compete with integrity and shall not knowingly deceive panels or members of the advisory committee. All presented materials shall be offered as an accurate representation of your knowledge and expectations, and shall not contain false or misleading statements. Contestants who violate this expectation of integrity are subject to disqualification and revocation of their Learn to Start platform membership.
Spotlight participants authorize The Startup Studio and its affiliates to use a summary of the content of their submission and any video and image submissions for publicity purposes related to Spotlight.
The organizers of Spotlight reserve the right to disqualify any entry that, in their judgement, violates the spirit of the event guidelines.